I am inspired by the fusion and contrast of all the cultures that make up my perspective. Since I was born, I've lived in rural prairie land in Canada, cosmopolitan Hong Kong, the dreamy Rockies and coastline of Vancouver, with family in Singapore, New York and the Westcoast of North America. I settled in the bustling multicultural tropics of Singapore - a place to connect with nature as well as a base from which to explore the rest of Asia.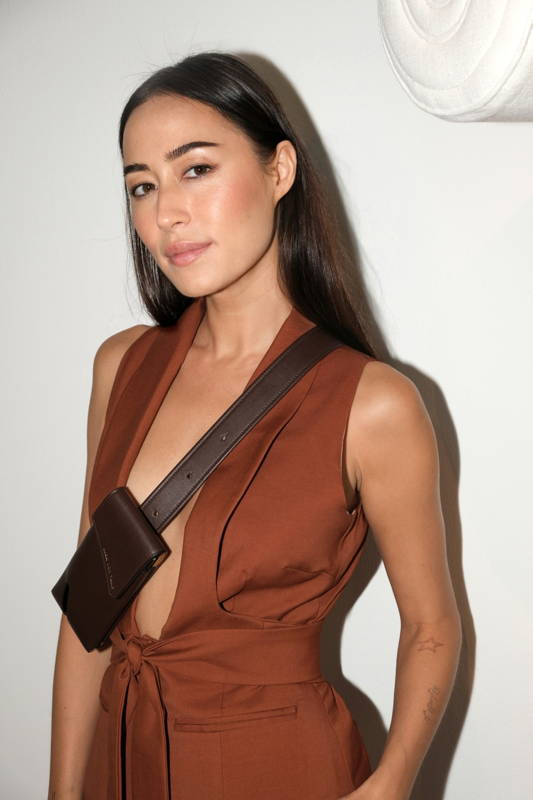 Lisa Von Tang (LVT) was founded in Singapore in 2017, inspired by the city's radiant cultural as well as the designer Lisa's mixed ethnicity and love for travel.
This is a brand for Cultural Nomads – People who pack their luggage with playful event wear plus travel-ready lounge pieces that can take them from remote-working in the hillsides of Ibiza to a hedonistic celebration in Miami. Lisa Von Tang's tribe likes to be comfortable, fabulous, and fun.
From the start, Lisa Von Tang produced "on-demand" in limited-edition capsules and refuses to put profitability over circular supply chains. Sustainability practices:
• Over 50% of textiles are sourced from luxury dead stock suppliers in Florence
• Manufacturers include solar-powered factories and globally certified producers across Morocco, Asia and India. Detailed information on lisavontang.com.
• Certifications include: GOTS, Sedex, GRS, WRAPS, Oeko-Textiles, Intertek
• Materials include: Hemp, Bamboo, Recycled Nylon, Organic Cotton, Crop-waste converted into bio-fiber, such as old flower and bananas via Circular Systems
After four years of building the brand in Singapore, LVT decided to launch in the US market with retailers Farfetch and The Webster, following a successful showing at New York Fashion Week (FW22 Season, in February 2022). The brand then decided to make a creative base in Milan, inspired by their Italian supply chain partners, and is now showing with Milan Fashion Week going forward, starting with SS23, aptly titled "Cultural Nomads".
• Resort 2021 "Here Comes the Sun", Digital Show in the Maldives
• Fall / Winter 2022 "Dare to Die", Catwalk Show at New York Fashion Week
• Spring / Summer 2023 "Cultural Nomads", Presentation at Milan Fashion Week
Lisa Von Tang was born in Canada to Chinese and German parents. Her grandfather was a Chinese watercolor painter from Xiamen, China, celebrated for his revolutionary work during before and during the Cultural Revolution. Her guiding philosophy in life and throughout every collection is the balance between yin and yang, masculine and feminine, and by extension the balance and fusion of her bi-cultural understanding of the world. With every season, Lisa elevates the brand's eco and ethical standards.